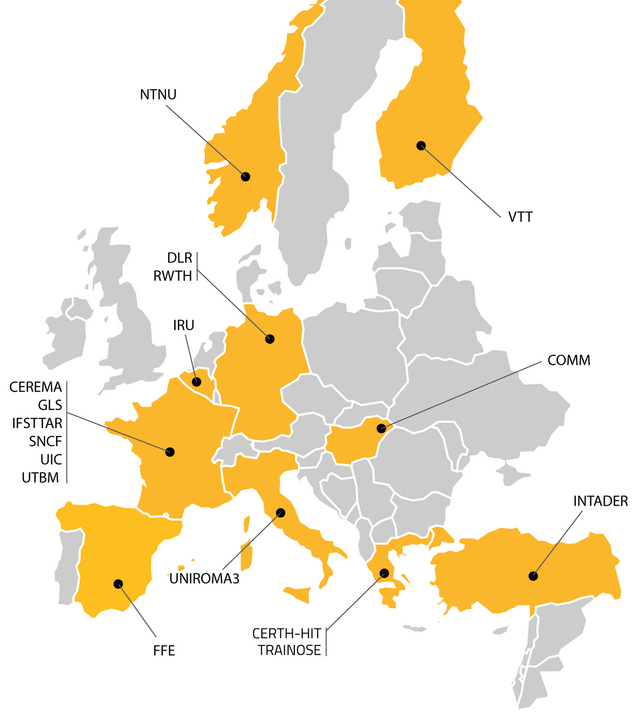 The SAFER-LC Consortium is led by UIC and composed of 17 partners from 10 different countries (France, Finland, Norway, Spain, Greece, Germany, Italy, Belgium Hungary and Turkey).
They represent railway operators, railway infrastructure owners, road operators, research centres, academia and industry suppliers and bring a range of complementary skills required for this multidisciplinary research project.
The Consortium consists of 1 rail association (UIC), 1 road association (IRU), Infrastructure managers and Railway operators (SNCF, TRAINOSE), 6 rail research institutes (CEREMA, FFE, IFSTTAR, VTT, NTNU, DLR), 2 universities (UNIROMA3, UTBM), 2 SMEs and providers (Commsignia, Geoloc system, Intader).
List of partners
| | | | |
| --- | --- | --- | --- |
| 01 | UIC | International Union of Railways | France |
| 02 | VTT | Teknologian tutkimuskeskus VTT Oy | Finland |
| 03 | NTNU | Norwegian University of Science and Technology | Norway |
| 04 | IFSTTAR | French institute of science and technology for transport, development and networks | France |
| 05 | FFE | Fundación Ferrocarriles Españoles | Spain |
| 06 | CERTH-HIT | Centre for Research and Technology Hellas - Hellenic Institute of Transport | Greece |
| 07 | TRAINOSE | Trainose Transport – Passenger and Freight Transportation Services SA | Greece |
| 08 | INTADER | Intermodal Transportation and Logistics Research Association | Turkey |
| 09 | CEREMA | Centre for Studies and Expertise on Risks, Environment, Mobility, and Urban and Country planning | France |
| 10 | GLS | Geoloc Systems | France |
| 11 | RWTH | Rheinisch-Westfaelische Technische Hochschule Aachen University | Germany |
| 12 | UNIROMA3 | University of Roma Tre | Italy |
| 13 | COMM | Commsignia Ltd | Hungary |
| 14 | IRU | International Road Transport Union - Projects ASBL | Belgium |
| 15 | SNCF | Société Nationale des Chemins de Fer | France |
| 16 | DLR | German Aerospace Center | Germany |
| 17 | UTBM | University of Technology of Belfort-Montbéliard | France |